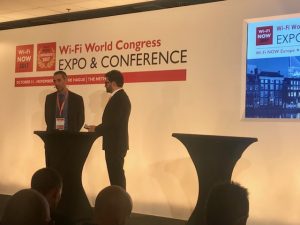 The WiFi4EU is coming to fruition, and Fernando Ferrero of the European Commission was on hand at Wi-Fi NOW in The Hague to give new details on the project.
WiFi4EU is designed to promote innovative digital services developed locally – like eGov, eHealth or eTourism.  More than 6,000 cities will be the beneficiaries of grants for building a vast network of free Wi-Fi services in the course of the next three years.
The application process
Ferrero says that there are four main steps to the project:
The municipality applies for the grant via a web portal
The commission assigns the grant
The municipality procures the Wi-Fi network by documenting location, equipment and installation procedures
The Commission pays the Wi-Fi equipment companies directly for equipment and installation
For the most part, grants are rewarded on a first-come, first-serve basis, so long as they are evenly distributed geographically. Municipalities should be "main centers of local community life," and vendors must be certified.
What about the competition?
Ferrero says that competitors shouldn't fear WiFi4EU.
"We don't expect that there will be a serious impact on competition because we will request that there will be no application from an existing public or private network," he says. "We don't expect this to be a distortion of the market."
He says that there may even be positive effects for operators, like offloading on the Wi-Fi network and increased demand. Overall, Ferrero says the goal is for the project to be simple and hassle-free, a departure from the red tape found in other EU projects.
The WiFi4EU brand
The WiFi4EU project will have a single authentication and authorization system. This means that if you log onto one network, you will be able to log onto another one in another city. There will also be a remote monitoring system to check that networks are up and running during the 3-year period.
Ferrero says that this project is a new approach for the European Union, which usually does not participate beyond the policy level.
"We hope to build a true EU success story," he says.
Companies interested in offering services to local municipalities can register via an online portal for municipalities to search for local providers. The web portals will be published in early 2018 and the first call for projects will be launched before the end of February 2018.