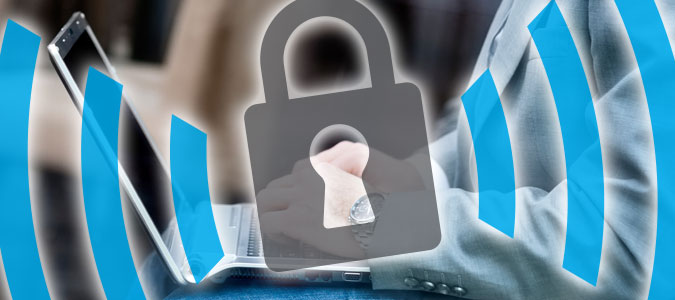 By Stephanie Bergeron Kinch, Wi-Fi NOW Staff Writer
Wi-Fi Alliance had big news to share at this year's CES: WPA3 is here, and it will protect users in ways we haven't seen before.
"The security landscape is always evolving, and the recent updates to the Wi-Fi Alliance security portfolio are the latest example of Wi-Fi Alliance refining its security suite to continue providing reliable security to billions of Wi-Fi devices," says Kevin Robinson, VP of Marketing at Wi-Fi Alliance.
WPA3: A new player in Wi-Fi Security
Wi-Fi Protected Access (WPA) is the Wi-Fi Alliance's family of security technologies. While the original WPA and WPA1 are obsolete, WPA2 has been a staple of Wi-Fi security for more than a decade. This standard still exists, with three new WPA2 enhancements introduced this year. For the foreseeable future, the new and improved WPA3 will run in conjunction with WPA2.
Most WPA3 security updates will take place "under the hood" of Wi-Fi devices, with little effect on the end user. Robinson says that WPA3 will help network operators and managers better deal with BYOD devices and provide more consistently secure experiences for network users.
WPA3 has several new requirements including:
Weak password protection for when users choose passwords that fall short of complexity recommendations.
Simpler security configuration to connect devices without screens (like sensors or IoT devices).
Heightened privacy in open networks like coffee shops, where a password isn't needed.
More protection for government, defence, and industrial networks via a set of protocols that delivers 192-bit security.
WPA2: New upgrades for an old standard
Despite the WPA3 announcement, WPA2 will continue to be deployed in Wi-Fi certified devices for the foreseeable future. Robinson says that industry adoption of WPA3 will not happen immediately, and WPA2 must continue to provide reliable security protections for users as WPA3 adoption builds. When the industry does begin adopting WPA3 security, devices supporting WPA3 will also work with WPA2 devices.
Three WPA2 enhancements were also announced at CES:
The Protected Management Frames feature, which ensures the integrity of network management traffic on a Wi-Fi network and maintains the resiliency of networks.
New security checks to make sure that all certified devices use best practices when it comes to Wi-Fi security protocols and closely-related network protocols.
Better consistency in network security configuration through standardized cryptographic suite configurations for the 128-bit level, similar to those defined for the new 192-bit level
New WPA2 enhancements will become a required piece of WPA2 security in 2018. Robinson says that while the vast majority of Wi-Fi devices already meet most of these requirements, it is essential to incorporate them into the Wi-Fi Alliance certification program to ensure that Wi-Fi certified devices uniformly achieve a higher level of security.
How to obtain WPA3 certification
If companies would like to receive WPA3 certification, they will need to implement the four new features above and go through a rigorous testing process that is similar in intensity to those done for WPA2 certification. A firm launch date for WPA3 hasn't been announced, but it is expected later this year. Check out wi-fi.org for updates on WPA3.
/Stephanie