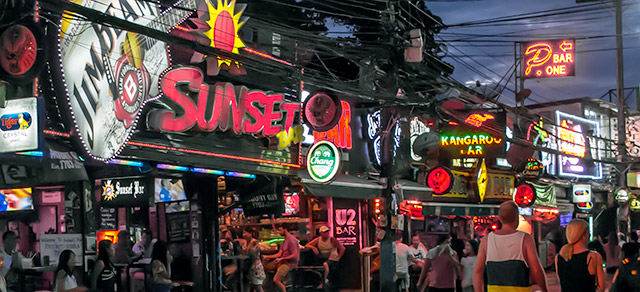 By Stephanie Kinch, Wi-Fi NOW Staff Writer
In 2016 the Phuket government set a goal to create a reliable, easy-to-use Wi-Fi service for local businesses and tourists alike. Today, Phuket boasts one of the most successful public Wi-Fi projects in the region. And with a business model that works, it's already growing.
Phuket city Wi-Fi's initial scope was simple: 120 access points to cover the most important tourist areas. Remarkably, it took only one week to install the new Wi-Fi network throughout Patong City, one of Phuket's busiest areas. After a successful trial, plans are now in place to deploy a whopping 1,000 access points in Phuket by the end of 2018.
To deliver the project, the Phuket government has partnered with CAT Telecom, Thailand-based Wi-Fi startup SpotWerkz, and not least Cisco Meraki.
Smart city Wi-Fi challenges in Thailand
One of the challenges of reliable outdoor Wi-Fi in Thailand is weather: Phuket's torrential rains, hot summers, and high humidity make for tricky operating conditions. Vendor choice fell on Cisco Meraki's outdoor APs, including features for high-density, seamless connectivity. The city's IT managers today monitor the network & usage on Meraki's and SpotWerkz' Cloud-based platform.
The project is funded by the Thai government, and with many stakeholders there has been much discussion on how to define success. While the goal is to provide free Internet to all, some have looked more towards controlled access via registration and content ownership. SpotWerkz says that discussions like these are common for smart city Wi-Fi projects.
"Luckily, we have a clear vision, strong determination, and open lines of communication," says Khun Ritthongpitak of SpotWerkz. "This has allowed SpotWerkz, CAT Telecom, and the government of Phuket to become successful partners."
One thing isn't up for debate: Tourists need and want Wi-Fi. Once a luxury, Wi-Fi is now a necessity for businesses and holiday travellers alike. Phuket is a hugely popular destination for tourists with more than 3 million visiting in August alone. The Phuket Hotels Association expects a 5-7 percent increase in tourism during the next high season.
Business model: Data & intelligent advertising
Patong City was given a small budget to install and maintain city-wide Wi-Fi. Beyond that, the network is self-funded. To establish a steady revenue stream, city officials are today using location-based services and intelligent advertising towards tourists.
Visitors can use their social media credentials to log on to the service, after which the network extracts the visitor's public information, and intermittently serves users with relevant ads and local offers. Before connecting, Wi-Fi users must accept legal terms & conditions granting the limited use of their personal data in return for free Wi-Fi.
SpotWerkz' SpotAnalytics platform then allows user data to be aggregated and analysed. The data shows where tourists are from, demographics, personal interests, and more.
"The data helps us see something we have never seen before," says Tepparit Ritthongpitak, CEO of SpotWerkz. "We can view tourism trends throughout different time periods and make Patong City or any city friendlier to those who visit."
Local businesses learn from Wi-Fi data
The model is already working. A popular restaurant chain in the region is using data from Wi-Fi users to create better menus for tourists. For example: When data shows that Chinese tourists are more likely to come in September, they change their menu for that month to cater to Chinese tastes.
"Thailand is trying to use Wi-Fi to bring the Internet to the people and enable them to be more tech savvy," says Khun Ritthongpitak. "In Patong City, all the pieces and components are in place, and it is exciting to see what we can learn from the data and find out we can apply it."
Read more about SpotWerkz here.
/Stephanie