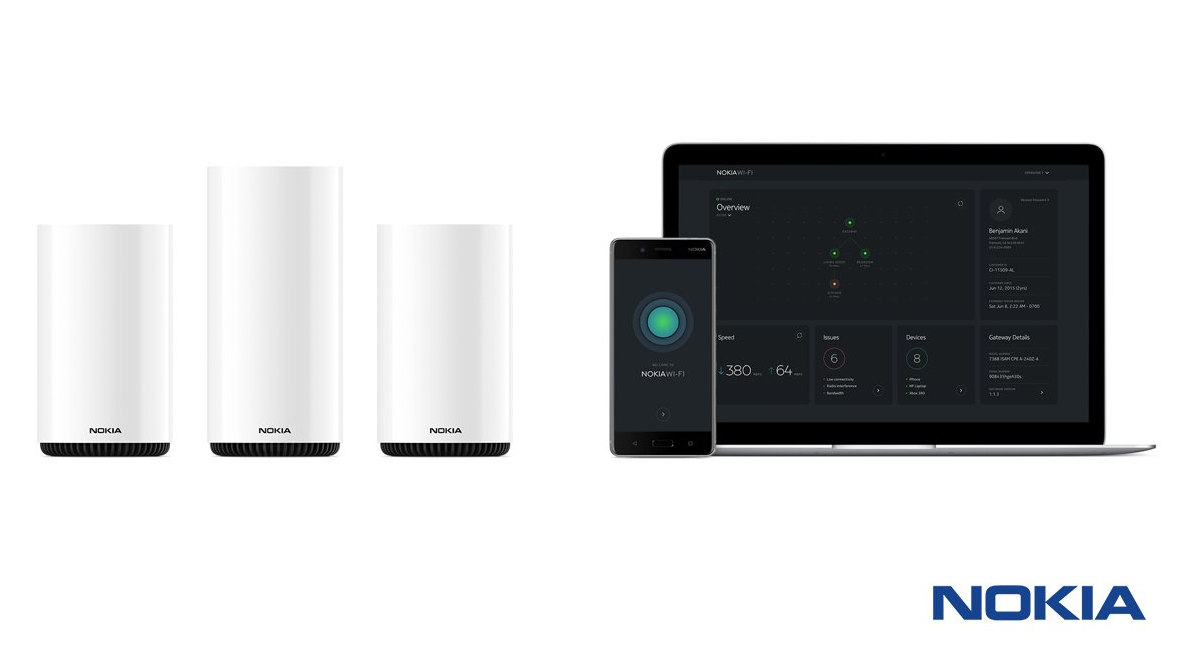 By Claus Hetting, Wi-Fi NOW CEO & Chairman
The 5G train may have run – at least intermittently – out of steam, so at the Mobile World Congress big vendors are turning their attention to Wi-Fi. Nokia and Qualcomm lead the pack this week with a handful of interesting announcements. Here's a brief roundup.
Nokia jumps on the in-home mesh Wi-Fi bandwagon
Announced Monday this week was Nokia's acquisition of Wi-Fi mesh software company Unium. The love child of the acquisition is a new line of Nokia in-home mesh products intended to boost Nokia's solution portfolio towards fixed ISPs and – presumably – cablecos. Alas, Nokia has chosen to dub their satellite mesh units 'beacons', which is bound to confuse a lot of Wi-Fi folks out there. It definitely sounds like the multi-AP units are not (BLE) beacons, but mesh-style repeaters.
Nokia's relationship to Wi-Fi has traditionally been somewhat volatile. Back in 1999 the company introduced a family of enterprise-grade access points but the products were quickly abandoned. Nokia enterprise & carrier-grade Wi-Fi solutions reemerged a couple of years ago with the AirScale Wi-Fi product line. It's unclear whether any actual deployments of AirScale Wi-Fi exist.
Interestingly, Nokia states here – check the last sentence above the graphic – that it intends to offer LWA (LTE-Wi-Fi Aggregation) to the AirScale family of products. If that happens, that would be – as far as we know – the only known implementation of LWA.
According to this news report, Nokia says its technology is already incorporated into 47 million home gateways delivered in partnership with carriers and others. In comparison, ARRIS says it has sold more than 175 million home gateways.
Qualcomm claims solid leadership in home Wi-Fi mesh market
Without stating exactly how big their lead is, Qualcomm announced Monday that they're leading the US market for Wi-Fi mesh products in the retail segment. It's a highly credible claim given that Qualcomm chips power the home mesh Wi-Fi routers of ASUS, Belkin, D-Link, eero, Google, Linksys, Luma, Netgear, Samsung, TP-Link and Ubiquiti Networks – phew!
The US market for retail mesh Wi-Fi routers has in record time become a significant cash cow for Qualcomm: Mesh Wi-Fi today accounts for 40% of home Wi-Fi router sales, up from 5% just 18 months ago, Qualcomm says in this press release.
/Claus.