By Claus Hetting, Wi-Fi NOW CEO & Chairman
A new market intelligence report by the analysts at 650 Group says there is more growth in store for the Wi-Fi industry in the short term. The two drivers towards 2022 will be 802.11ax and IoT – and 802.11ax is expected to 'experience rapid adoption,' the authors say.
The California-based market intelligence company 650 Group released their latest WLAN report on July 2 citing demand for enterprise and outdoor Wi-Fi in emerging markets and the accelerated adoption of Wi-Fi-based IoT as the main drivers.
"Beginning in the next 2-3 years, we expect the adoption of IoT devices, including those involving video surveillance, will become significant enough to drive additional spending on WLAN infrastructure to sustain growth in the later years of the forecast," said Chris DuPuy, Founder & Technology Analyst and 650 Group.
The company expects the size of the enterprise-grade and outdoor WLAN market in 2022 to be more than 35% larger than it was in 2017 increasing the CAGR by more than one percentage point. The revenue is expected to rise from around $5.5B in 2017 to close to $8 in 2022 (see graph below).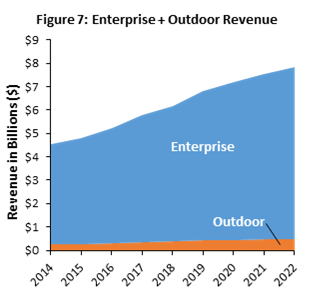 Earlier this year Ruckus Networks posted a record sales quarter and one of Europe's leading Wi-Fi equipment makers – Lancom Systems – boasted a 17% year-on-year increase in sales for 2017. Chipsets for the new 802.11ax Wi-Fi standard are already widely available from the likes of Qualcomm, Quantenna, Broadcom, and others, while some – such as Huawei and Japan's KDDI – have already launched 802.11ax draft compatible products.
The draft 802.11ax standard is expected to be completed by the IEEE this summer.
If you are interested in acquiring the report, contact Chris DePuy at chris@650group.com.
/Claus.