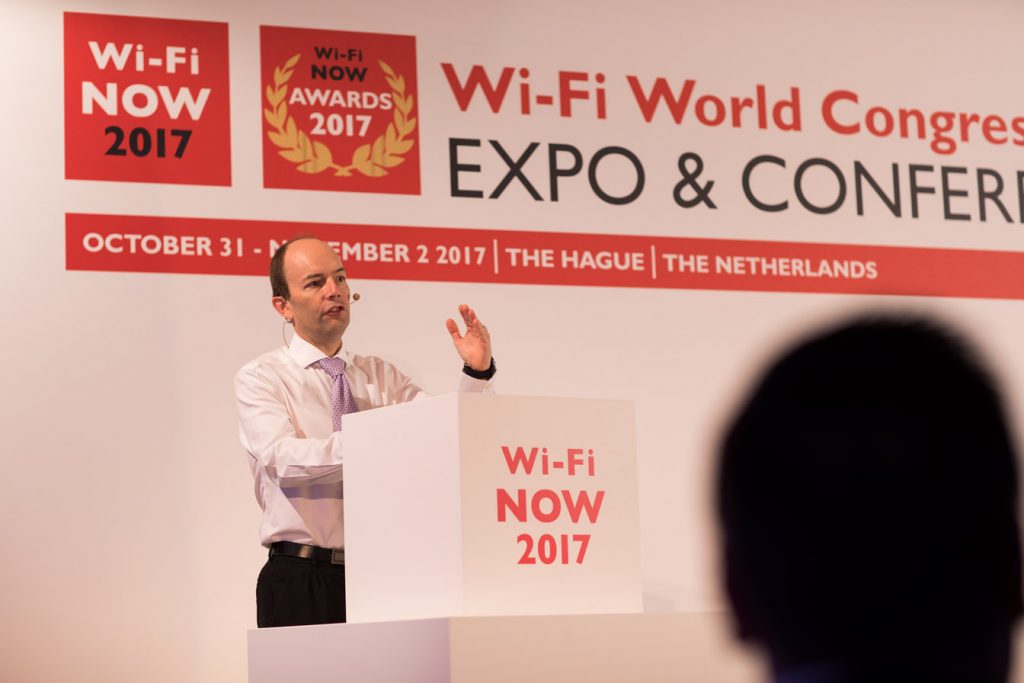 By STEPHANIE KINCH, Wi-Fi NOW Staff Writer
The answer: 1 GHz
That's how much more new spectrum that a new study commissioned by the Wi-Fi Alliance claims will be needed by 2025. William Webb, one of the leaders of the study, spoke about his work at this year's Wi-Fi NOW conference in The Hague.
The research
Webb says that the spectrum needs depend on where you are living, so the study looked at three busy environments: an apartment building, a shopping mall, and an office. These are three areas where the spectrum would be particularly strained.
Once these environments were chosen, data was gathered via five steps:
Area definition of the three environments
Access point and user placement on a randomized basis
Frequency assignment to each access point in three approaches: random, semi-autonomous, centralized
Max data rate definitions based on SINR per user
Determination of data load at access points
The results
The study showed that more spectrum – between 500 MHz and 1 GHz – will be needed in 2025. Even further, it shows that spectrum must be assigned in a way that wide channels of 160 MHz, or maybe even wider, can be easily constructed. Anything else would risk restriction of Wi-Fi growth and the economic benefits that come with it. As study authors state:
We have shown that between 500 MHz and 1 GHz of new spectrum will be needed in 2025 to satisfy the anticipated busy hour, with between 1.3 and 1.7 GHz required if demand exceeds the busy hour prediction by a relatively modest 78%, for example due to novel and as yet un-anticipated applications, or the further concentration of traffic into fewer busy hours than the present four hours per day.  
Despite the large spectrum requirements, Webb stressed that he wasn't trying to prophesize doom.
"We're not saying that there is a looming disaster and all Wi-Fi systems are going to break in 5 years," he says. "But we are saying that there will be a case where data rates will be well below what users want and we need to address that – Anything that shows that Wi-Fi is struggling in dense places will trigger even more interest in this (increase in the open spectrum) happening."
William Webb is the CEO of Webb Search – a premium wireless consultancy, CEO of the Weightless SIG – a standards body for IoT connectivity, a Visiting Professor at multiple Universities, a Fellow of the Royal Academy of Engineering, the IEEE and the IET. 
/Stephanie