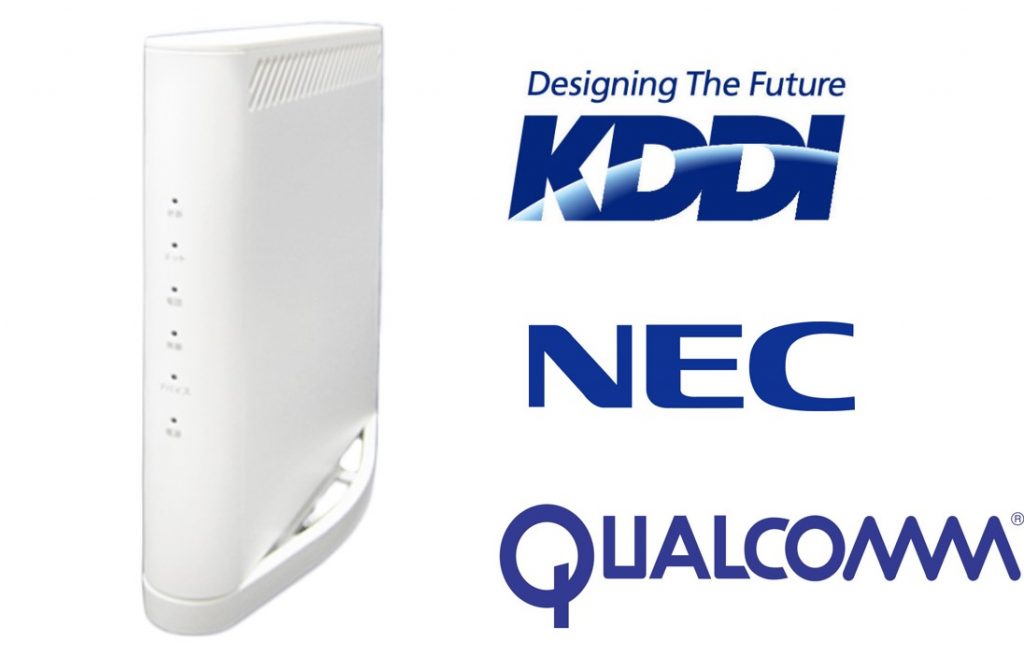 By Claus Hetting, Wi-Fi NOW CEO & Chairman
The latest in a slew of Wi-Fi-related announcements from Qualcomm: KDDI & NEC are on track to ship the world's first 802.11ax-enabled home subscriber gateway this month. The gateway is powered by Qualcomm's Draft  Release 802.11ax chipset.
Japanese carrier KDDI, gateway solution provider NEC Platforms Ltd., and chipset vendor Qualcomm reported last week that the world's first 802.11ax capable home subscriber gateway is due to ship this month. Qualcomm says the new unit will deliver wireless (PHY) rates of up to 6 Gbps as well as 4 times better capacity than legacy 802.11ac Wave 2 devices.
The new home gateway unit will be delivered as part of KDDI's 1 Gbps and 10 Gbps fibre-to-the-home broadband offerings, says a source at Qualcomm. Most industry sources expect 802.11ax-capable client-side devices (meaning phones, tablets, etc.) to be released in early to mid 2019.
Elsewhere in Asia, Qualcomm sources say that Korea's KT Corporation has already tested 802.11ax technology at some twenty venues in connection with the recently completed PyeongChang 2018 Olympic Winter Games.
Qualcomm cranks up its Wi-Fi game
Qualcomm has been unusually aggressive on the Wi-Fi front in recent months, issuing a slew of announcements. The company is clearly intent on demonstrating Wi-Fi industry leadership in the run up to the release of the new 802.11ax standard, which is expected to be finalised by the IEEE some time next year. In the meantime, the race-to-market with draft-specification chipsets is on.
The company may also be under pressure to demonstrate industry dominance in the face of a mounting hostile takeover bid from rival chipmaker Broadcom. Earlier today, US President Donald Trump says he intends to block the takeover bid citing national security concerns.
/Claus.