Above: Tsahi Tal, AVP Product Management, Celeno, The Future Of Intelligent Wi-Fi Networks presenting at Wi-Fi NOW USA 2018 in Redwood City on Vimeo.
By Claus Hetting, Wi-Fi NOW CEO & Chairman
If you're looking for ground-breaking innovation in residential Wi-Fi then here it is: Chipmaker Celeno is making MIMO configurations 'elastic' allowing CPE and AP designers to select their configurations after deployment. The solution adds a new dimension to managing Wi-Fi radio resources within the home effectively when conditions inevitably change, the company says.
When designing home Wi-Fi products – for example CPEs – the dimensions of the MIMO system per band is usually decided upon early in the design process. That decision can normally only be changed with great difficulty. And in a hyper-competitive environment where home Wi-Fi requirements can change quickly that original configuration may very soon no longer be what you really want.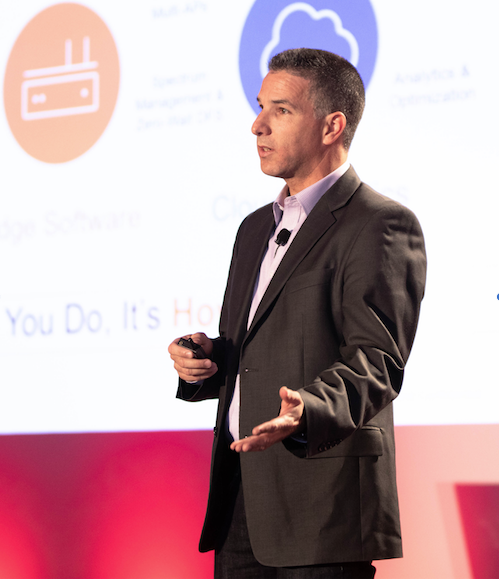 So what would happen if you could change and apply the best-suited MIMO configuration after the product has been deployed? Well – that's exactly what Celeno is proposing and delivering with their new flexible approach to MIMO. They call it 'Elastic MIMO™' – and it has even been trademarked.
"Capacity, coverage, types of services – these requirements are never constant. The design process for CPEs and APs takes one or two years, and your equipment needs to serve your clients for something like 3-5 years. So when you start the process we're talking about designing solutions that should deliver value for at least 5 years into the future. That's why building flexibility into the product is high value – and now it's possible," says Tsahi Tal, AVP Product Management at Celeno.
The solution is to allow MIMO dimensions per band to be configured or reconfigured after deployment to match changes including new requirements for Wi-Fi coverage and capacity, says Tsahi Tal. "Allowing dynamic configuration of MIMO per band is important today, but it will become even more important in the future, among other things because the new 802.11ax standard applies to both 2.4 and 5 GHz bands," he says.
"The truth is that nobody knows what services and requirements are needed for service providers and tech vendors to stay competitive even one or two years from now. Now we have another powerful tool to future-proof Wi-Fi hardware," says Tsahi Tal.
Celeno has racked up a string of successes in recent years entering into major deals with Samsung Electronics, Telenet, and others. At the end of last year, Celeno for the fourth consecutive year was recognized by Deloitte as one of the top 50 fastest growing tech companies in Israel.
Read more about Celeno's presence & experience at Wi-Fi NOW USA 2018 in Redwood City, California, here. For more about the latest innovations in residential Wi-Fi technology meet Celeno and many others at Wi-Fi NOW Europe in Berlin this November 6-8. Read more and register here.
/Claus.