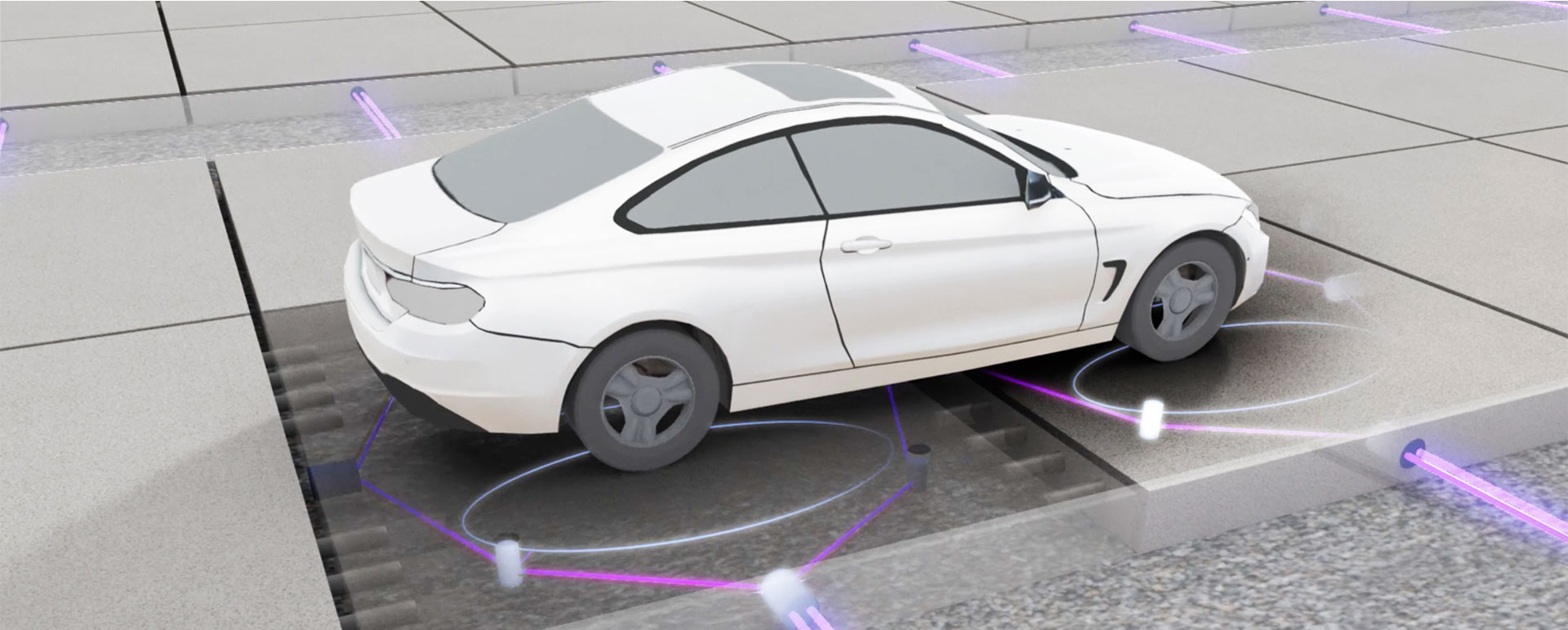 By STEPHANIE BERGERON KINCH, Wi-Fi NOW Staff Writer
How do you create 2,000 Wi-Fi access points per mile (1.6km)? Answer: Hit the road!
With US-based Integrated Roadways' smart pavement this extremely high density of Wi-Fi infrastructure is possible via a series of concrete interlocking slabs that carry fiber and other Internet connections to the vehicles that drive on them and the devices of the people inside.
Each slab consists of a tech access port, a fiber optic touchscreen-like strain mesh, four routers, and an interconnecting dowel system. Integrated Roadways partnered with Cisco for their IT systems. Once fully assembled a road like this will embed 2,000 access points per mile (1.6km).
CEO Tim Sylvester says that Integrated Roadways is delivering a solution for America's crumbling highway infrastructure while paving the way for the smart and autonomous vehicles of the future by providing easy vehicular connections via Wi-Fi.
"Roadways were humanity's first networks and they continue to be critically important networks in society today," he says. "Everyone has a road near them, so when we build network services into the road, better connectivity is the natural byproduct."
Smart Pavement, Smart Payments
Tim Sylvester first got the idea for the Wi-Fi connectivity pavement in 1997, when he was working in the construction industry. Every day he would get stuck in traffic on his daily commute as crews worked to rebuild a local highway.
"Almost everything else that we use in modern society is produced in a factory and delivered as a finished good to a job site," says Sylvester. "It didn't make sense to me that we were manually constructing roadways in place."
It wasn't until 2014 that Sylvester had what he calls his watershed moment when he spoke with the director of the Missouri Department of Transportation about building roads better and faster for lowered lifecycle costs.
"The director told me that the lifecycle costs were irrelevant if the upfront costs weren't affordable," he says. Instead, what if the roads paid for themselves?
The philosophy behind Integrated Roadways is to build roads that are funded through leasing agreements with private sector Internet Service Providers (ISPs) and a private party app that generates revenue by offering information to travelers.
Information Superhighway. . . Or another road to nowhere?
This is not the first time that a company has suggested a radical new way to rebuild America's roads. In 2014 another modular road system was launched with great fanfare. The viral video "Solar FREAKIN' Roadways!" helped to crowd-source more than USD$2 million for a company that aimed to pave America's roadways with solar panels, hence ridding the world of all environmental evils. In the end, several topic matter experts pointed out that while solar panels are suitable for harvesting energy, they don't make for great roads.
There have been a few trials of solar roadways in China, France, and rural Georgia, but the overall consensus is that solar roadways will not live up to the hype levels promised on YouTube.
It remains to be seen if Integrated Roadways will create the highways – and information superhighways – of the future. Meanwhile, two pilot projects are in place in Colorado as a starting point. Sylvester says that Integrated Roadways has taken a different approach from solar roadway developers by focusing on the road first and the technology second.
"It doesn't matter how cool your tech is if you can't build a great-quality road," he says. "Our pre-cast pavement slabs have been proven to last an extremely long time and require limited maintenance."
Check out Integrated Roadways website for news and updates.
/Stephanie