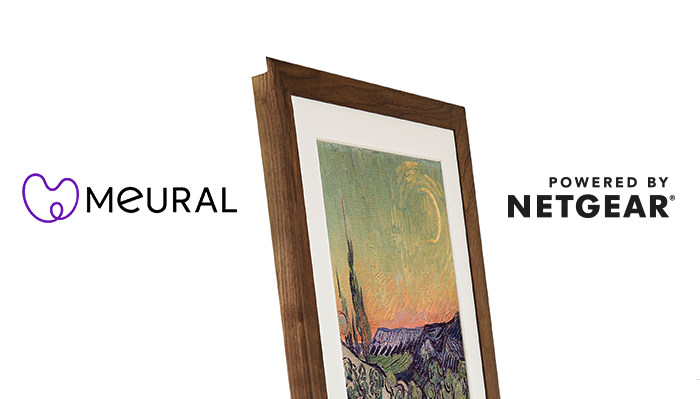 Image Source: Meural's Facebook page
By Stephanie Bergeron Kinch, Wi-Fi NOW Staff Writer
In 2014 two budding art entrepreneurs gathered a small team of artists to create Meural, a gesture-controlled digital frame that could display 40,000+ pieces of art using Wi-Fi. Fast-forward less than five years and Meural could be the world's first art-based Wi-Fi router.
Last month, multinational computer networking company NETGEAR acquired Meural for an undisclosed price.
Thus far NETGEAR has been known for the less-than-stylish black plastic routers that many people try to hide away from sight in their living rooms. So it would appear strange for the tech company to acquire a start-up founded by a team of hopefuls plucked from the Manhattan art community.
But that's probably the point.
Where art and tech collide
According to co-founder Vladimir Vukicevic, the Meural Canvas is a Wi-Fi connected device that produces "a highly realistic, textured, art-viewing experience." It's basically a step up from digital photo frames – and it has captured reviewers' attention.
Time Magazine called it "So realistic you want to reach out and touch the brush strokes." Forbes described it as if "The Met or MoMA went on a hot date with Snapchat."
"My co-founder, Jerry Hu, and I founded Meural in response to our observation that visual art was being left behind by the digital revolution," says Vukicevic. "There was no central distribution platform for artists and no way for everyday people to consume art on a daily basis. As art lovers and entrepreneurs, Jerry and I felt that there must be a way to use technology to bring art to more people."
That goal may become a reality if NETGEAR decides to use Meural as a disguised Wi-Fi router. The company reported net revenue of $1.41 billion in 2017. For 2018, NETGEAR's goal is to reach 10 million registered users. The company commands about half of the market for consumer-grade Wi-Fi routers in the US. Meural is now part of NETGEAR's "Connected Home" series, which also features NETGEAR Nighthawk Pro Gaming products, NETGEAR Armor, and the Circle parental control app.
When approached NETGEAR was mum on what exactly they would be doing with Meural's digital frame technology moving forward but a July 2017 article from Bloomberg states that NETGEAR was aiming to expand their offerings beyond wireless routers and home cameras. Another report this month in Forbes quotes NETGEAR CEO Patrick Lo, who confirmed that NETGEAR would add Wi-Fi routing capability to Meural's frames.
Another cool home gadget – for now
Time will tell if Meural will replace some part of the worldwide market for Wi-Fi routers. For now a subscription to Meural costs $49.95 per year, which gives access to a library of 30,000+ pieces of high-quality, digitally reproduced art.
So if you are feeling abstract one day and Art Nouveau the day after, you won't have to hang up new frames. Just wave a hand at your Meural canvas and your wall gets a new look. An ambient light sensor ensures the display matches the environment of your home.
"For the first time, Meural lets you customize the art in your home every day, and match it to your mood, the season, or your décor," says Vukicevic. "We've only just begun to scratch the surface of the commercial use-cases—hospitals, hotels, etc. Because the product is so customizable, there is an application for almost any type of space — the possibilities are endless."
P.S. If you are looking to replace your current router with something a bit more stylish, check out the new routers released at CES this year.
/Stephanie