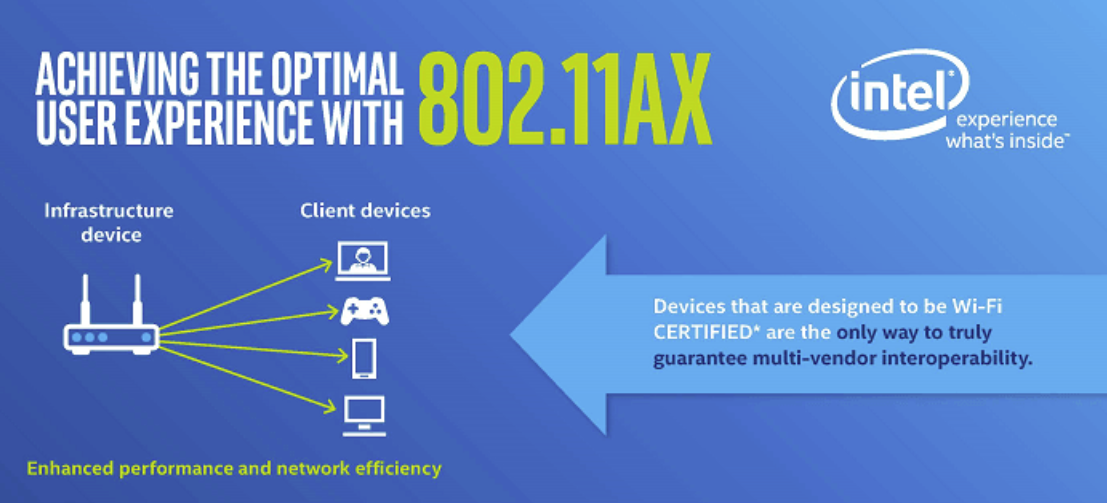 By Claus Hetting, Wi-Fi NOW CEO & Chairman
Last week silicon vendors Intel and Celeno announced plans to release their respective 802.11ax solutions. With chipsets supporting 802.11ax soon to be available from at least five suppliers, 2018 will be the pivotal year for the new and much-improved Wi-Fi standard. 
Intel's new 802.11ax solution targets both the retail home router and home broadband gateway markets. Intel's Doron Tal, General Manager of the Wireless Infrastructure Group in Intel's Smart & Connected Home Division, says 802.11ax will deliver 40% higher peak data rates and four times better average throughput in dense environments in this recent blog post.
Speed, wider coverage, & longer battery life
In an interview with Wi-Fi NOW, Doron Tal points out that Intel's chip is based on the Draft 2.0 release of the 802.11ax standard. "The certification program from 802.11ax will be based on Draft 2.0 or higher," said Tal. The Wi-Fi Alliance has not yet said when they expect the 802.11ax certification program to be ready. For now, 802.11ax certification is listed as an early development and current work area on the Wi-Fi Alliance website here.
Doron Tal also said that 802.1ax is definitely not only about improving current Wi-Fi speeds. He highlighted wider coverage and longer device battery life as important but lesser known benefits of 802.11ax. Add to this context and application-aware Wi-Fi services, and 802.11ax is certain to be big leap forward for in-home Wi-Fi connectivity, Doron Tal said.
Celeno announces 'Everest 802.11ax Wi-Fi'
Meanwhile, (nearly) across the road in Tel Aviv, Wi-Fi chipset challenger Celeno announced their Everest 802.11ax Wi-Fi solution. Celeno's ax chipset builds on the company's widely successful CL2400 802.11ac solution.
In the press release Celeno points at another big benefit of 802.11ax: The new standard applies not only to the 5 GHz band (as 802.11ac did) but also for the much more congested 2.4 GHz band. For more about Celeno's approach to quality in-home Wi-Fi read this report from Wi-Fi NOW APAC.
Contenders for 802.11ax chips line up for 2018
With the entry of Intel and Celeno, the peloton of 802.11ax Wi-Fi chipset contenders seems close to complete. Both Qualcomm and Broadcom launched their solutions in 2017, while Quantenna launched an early version in 2016 and another (for multi-AP support) in October of 2017.
Huawei released what appears to be the world's first 802.11ax-based enterprise grade AP in September of last year (based on Qualcomm chips), while SKT of Korea has already hatched a plan for launching a '5G-like' Wi-Fi service 802.11ax later this year.
/Claus.